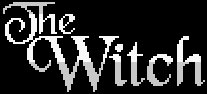 The Witch
This is a remake of the classic 8-bit game Cauldron from Palace Software.
You have waited a long time for tonight and now you could become the witch queen, at last. You will need the golden broom but it is guarded by the pumpkin king. Only a special potion from your cauldron will give you the power to put an end to his reign.
You know that the ingredients are scattered throughout the crypt, the volcanic cave and the underground river, but first you will need the keys to gain entrance to those dangerous places.
Don't crash into the trees, and avoid the bats. Evil plants and many other creatures will try to stop you. If you face these dangers with courage and wisdom, you will achieve your goal.